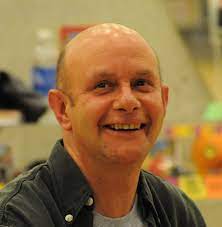 Nick Hornby is an English author who writes about sport and music. His most well-known books are Fever Pitch and High Fidelity.
Hornby has collected and edited writings on football by various authors in My Favourite Year





Book Review:
Nick Hornby - My Favourite Year
Writings on football edited by Nick Hornby. Works include Roddy Doyle, Nick Hornby and many others.

Book Condition:
Slight wear to covers Good Copy
Picador Paperback 2001 Reprint
Book Weight: 275g
Book Type:
Biography, Soccer
ISBN 9780719564444



Buy Now for €2.00 + Post and Packing Using Paypal as a safe and secure method of payment
Delivered Price
| | | |
| --- | --- | --- |
| Post and Packing to within IRELAND(incl NI) | Postage Cost €6.20 | Total Cost €8.20 |
| Post and Packing to Great Britain | Postage Cost €9.00 | Total Cost €11.00 |
| Post and Packing to EUROPE | Postage Cost €11.00 | Total Cost €13.00 |
| Post and Packing to Australia/New Zealand | Postage Cost €22.50 | Total Cost €24.50 |
| Post and Packing to Rest of the World | Postage Cost €15.00 | Total Cost €17.00 |

To Buy Now click on required destination field from drop-down menu below and then click on 'Add to Cart'