Dee Brown was born on February 29, 1908 and died at home in Little Rock Arkansaw on December 12, 2002.
Brown was an American historian, author and film-maker. He publicised the destruction of the Native American Indians way of life and of the hardships that were brought upon them by the incoming westerners. His book, Bury My Heart at Wounded Knee was a driving force in the recognition by the public of the harm done.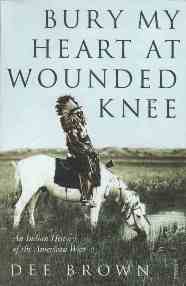 Book Review:
Dee Brown - Bury My Heart at Wounded Knee
The American West, 1860-1890 years or broken promises, disillusionment, war and massacres.
This epic bestseller tells the North American Indian's side of the story.
We see their faces, hear their voices as they strive to prevent the encroachment of miners, ranchers, saloon keepers and soldiers upon their land, their heritage, and, finally, their liberty.

Book Condition:
Slight wear to covers otherwise Good Copy
Vintage Paperback 1991 Reprint
Book Weight: 425g
Book Type:
Non Fiction, History: North American Indians
ISBN 9780099526407



Buy Now for €2.00 + Post and Packing Using Paypal as a safe and secure method of payment
Delivered Price
| | | |
| --- | --- | --- |
| Post and Packing to within IRELAND(incl NI) | Postage Cost €6.20 | Total Cost €8.20 |
| Post and Packing to Great Britain | Postage Cost €9.00 | Total Cost €11.00 |
| Post and Packing to EUROPE | Postage Cost €11.00 | Total Cost €13.00 |
| Post and Packing to Australia/New Zealand | Postage Cost €22.50 | Total Cost €24.50 |
| Post and Packing to Rest of the World | Postage Cost €15.00 | Total Cost €17.00 |

To Buy Now click on required destination field from drop-down menu below and then click on 'Add to Cart'